CiSCO offers complete hardware training at our facility or yours on a variety of CEMS hardware topics geared towards your CEMS technicians. In a typical 1 to 2-day training the topics are delivered in a hands-on setting by a CEMS expert and can be customized to meet the training needs of your facility.
Complete CEM System Training at CiSCO
CiSCO is pleased to announce the opening of our new CEMS Training Shelter at our office location in Englewood, Colorado!
In 2018, we replaced CEMS shelters at an existing long-term client site in central Texas.  CiSCO was able to reacquire the old CiSCO shelter, relocate it to our office location, and then outfit it to be our CEMS Training Shelter.
After 20 years in an outdoor work environment, the shelter itself is in excellent condition.  Aside from new stainless tubing, new regulators, and some paint touch-up on the base, most of the shelter remains intact including the original interior and exterior siding, flooring, base, and the roof, and serves as a testament to our high-quality shelter construction.
The shelter is a fully functional CEMS, complete with most everything you have in your CiSCO CEMS.   Inside we have installed 2 sets of analyzers: Thermo Scientific 42ILS NOx, Thermo Scientific 48I CO/O2, and Teledyne T300 CO and T200 NOx analyzer.  There is also a complete CEMS Sample System.  We have installed a new Thermo Electric Cooler, a new CompactLogix PLC and a CEMS DAHS computer.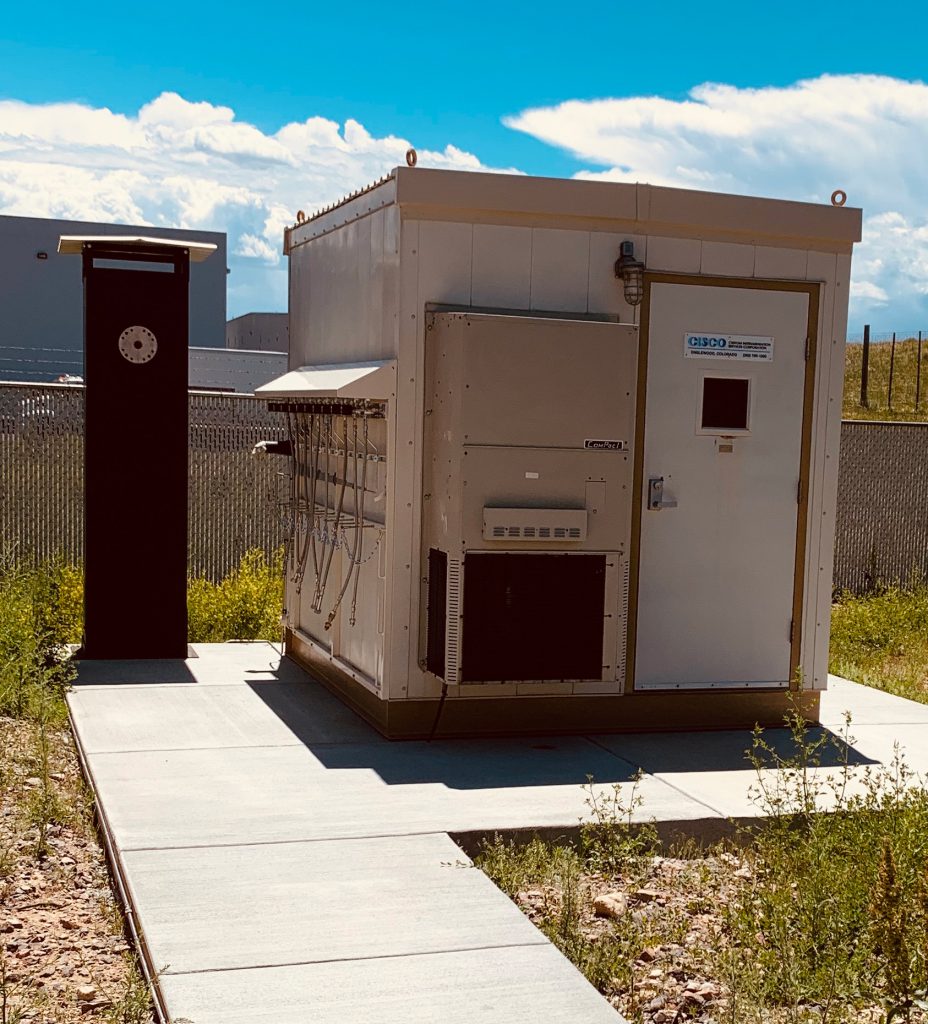 Outside of the shelter, a mini stack has been built with a burner to simulate stack emissions.  These emissions will go from the mini stack into a probe, through a heated sample line, and into the CEMS training shelter so that actual readings can be obtained for training purposes.  Storage locations on the outside of the building hold daily calibration and CGA/linearity gases that will be used for training.
This real-life simulation allows the instructor to introduce problems to the CEMS and provides the opportunity for students to discover and resolve issues without interruption to operations at their own facility.  In addition to hands on troubleshooting and problem solving, students get an opportunity to cross train one another by sharing real-world experiences.
Training topics include:
A review of system drawings
Familiarization with gas analyzer operator interface terminals
Completing routine maintenance tasks, including changing the system filters
Performing daily calibration checks
Performing CGA/linearity checks
Checking for system leaks
Common troubleshooting
Class size is limited to 5 students to provide a more hands-on training experience.
See the video on our new CEMS Training Shelter.
CEMS Hardware Training at Your Facility
Don't have the resources to send a technician to CiSCO?  Let our experts come to you!
The onsite course starts with a brief classroom portion that includes a discussion of your CEM system drawings. The hands-on portion in your CEMS shelter training includes reviewing and/or performing QA checks, daily calibration checks and CGA/linearity checks.  A review of common problems, troubleshooting, and system failures are also covered.
Due to the size of CEMS shelter, smaller groups are encouraged – to allow for more hands-on training.